Email support service, are we still stuck to the oldest way of communication? Here, you might be wrong, although email is the oldest way yet the most reliable and accepted form. 
You might have questions still to be answered. Therefore, let me explain it with certain examples. For example, social media is the new form of news and entertainment platform. But all of us know that the credibility of news on social media is very much questionable. Although, talking about the credibility of the broadcast media is almost not questionable and therefore could be believed.  
Similarly, the emails are found to be more credible for any customer from their client or vice versa. Therefore, to handle all the receiving and sending emails strategy, you should focus on an outsourcing firm so that you could work on other core competencies of the company. 
Email Service as part of Customer Support Service
The utilization of email support in customer support service is highly advantageous, as it creates a permanent record of the communication between the brand and the customer. By utilizing email support, customers can clearly and effectively articulate their concerns, including all relevant details, in a way that may not be possible through alternative channels such as phone or chat support. With email, customers have the time to fully explain their issues and concerns. 
5 Reasons why you should outsource email support services
These are the five reasons, why should you avail of email support services are,  
Better Accessibility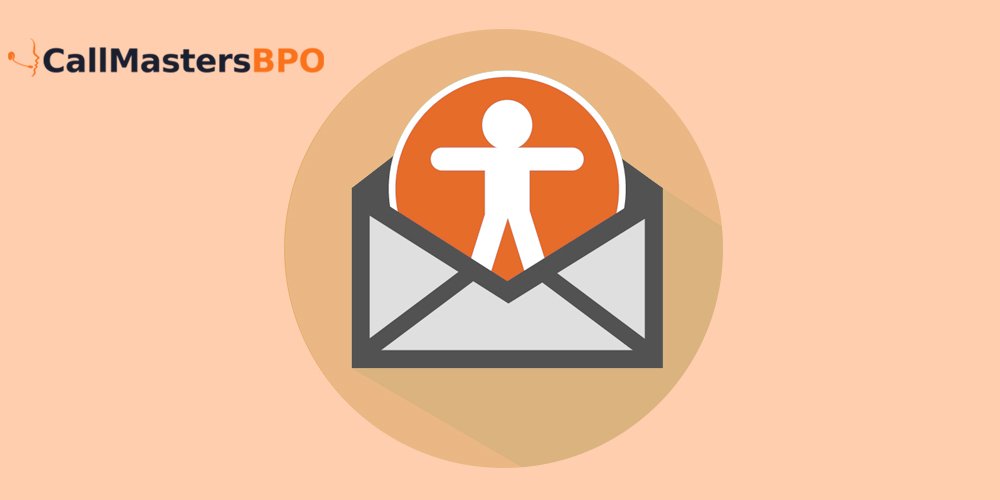 Email is a widely-used communication tool for both personal and professional purposes, available on multiple devices including smartphones, laptops, and tablets, making it the preferred way for users to connect with support teams. It is a versatile form of communication that can be used even when other means are not available. 
Notably, email is a simple communication tool that people of all ages, including the elderly, can easily understand and use. It requires minimal technical knowledge and can be set up easily without the need for extensions or downloads. This ease of use ensures a smooth flow of communication between users and support agents. 
Email is a widely accessible platform that can easily be accessed over the internet, making it a convenient choice for businesses to outsource their email support services. Outsourcing email support can provide an organized system for managing customer inquiries at affordable rates. 
Cost Effective and Efficient
Email support services are an affordable and effective way to handle customer inquiries and support requests. They can be seamlessly integrated with existing live chat or voice chat services, allowing businesses to offer a comprehensive customer support experience. Compared to outsourcing other business functions, email support services are a cost-efficient solution that can provide tangible results and improve the ROI over the long term.
The integration of email support services is a straightforward process that can be done without incurring exorbitant costs. With the right tools and resources, businesses can quickly set up email support channels and train their customer support teams to handle email inquiries effectively. This not only provides customers with another means of reaching out to businesses but also allows businesses to streamline their support operations.
In today's competitive business landscape, providing excellent customer support is essential for retaining customers and building brand loyalty. Email support services enable businesses to respond to customer inquiries promptly and professionally, ensuring customer satisfaction and reducing the likelihood of negative reviews or feedback. This, in turn, can help businesses increase customer retention rates and generate positive word-of-mouth advertising.
Rapid Response and Auto Replies
customers have high expectations when it comes to customer support, and they demand prompt responses from the brands they interact with, regardless of the communication channel used. Email support is no exception, and businesses must provide their customers with timely and accurate solutions to their inquiries. However, email support can be challenging to automate, which is where outsourcing can come in handy.
Outsourcing email support services can help businesses meet the demands of their customers and provide them with faster and more accurate solutions to their issues. By outsourcing, businesses can rely on a team of experts who are trained in handling customer inquiries effectively and efficiently. This not only ensures that customers receive personalized and timely responses throughout the day, but it also enables businesses to focus on their core functions and competencies.
Automated responses are not adequate in today's world, as customers expect personalized replies to their inquiries. Sending an automated message could potentially lead to losing the customer, which is not ideal for businesses that strive to build long-lasting relationships with their customers. Outsourcing email support services is the optimal solution for businesses that want to enhance customer satisfaction and provide their customers with personalized and timely responses.
Outsourcing email support services also allows businesses to be available to their customers around the clock. With an outsourced team in place, businesses can provide their customers with 24/7 support, regardless of their time zone or location. This level of availability can be a significant competitive advantage and can help businesses differentiate themselves from their competitors.
Planning and Execution
Quick customer support is highly valued in today's age, and that's why live chat and phone support are the preferred channels. However, these channels can often frustrate customers who end up repeating the same information repeatedly. No one wants to explain their problems more than once, especially when they are already going through an issue. As a result, customers often end up feeling ignored or unimportant, which can harm their relationship with the company. 
Fortunately, email support comes as a blessing in disguise for customers who do not want to repeat themselves. With email support, customer service representatives can access the entire conversation. This allows them to plan out the proper solution in detail to cater to the customer's needs. Instead of interrogating the customer, the representative can simply provide the appropriate context to the email. Resulting in a user-friendly experience and increased customer satisfaction. 
In addition, email support is also helpful for adding notes and escalating the issue. It allows for interactions in a manner that other means of communication do not provide. For instance, a phone call might take much longer to comprehend a customer's problem nuances. While live chats may not yield fruitful results due to the limited time agents have to address each customer's concerns. Therefore, email support is a highly effective channel for customer support, as it enables a detailed, comprehensive, and personalized approach to problem-solving. 
Convenience and Satisfaction
Email support services offer a high level of convenience compared to other communication methods. Despite not being as fast as live chat or phone support, the entire communication takes place on the customer's terms. This means that customers are in complete control and can take a break and reply whenever they want. 
According to research, 40% of users prefer email because they can reply at their convenience and feel in control of the conversation. While the response time might not be as quick as other channels, it's easy to track the conversation timeline. This feature makes email support more satisfying than other channels, and outsourcing email services can make it even more hassle-free and sustainable. 
Outsourcing email support services can provide businesses with more resources. And specialized expertise to manage customer inquiries, which can result in a more satisfying experience for customers. Additionally, outsourcing allows businesses to focus on their core competencies while leaving customer support to a dedicated team of experts. This approach can result in faster response times and higher customer satisfaction. 
We know what you need, so what are you waiting for?
If you're looking to provide top-notch customer support through email, outsourcing to a professional email support service provider can be a smart move. At Call masters BPO, we offer high-quality email support services at affordable prices to help businesses achieve easy success. 
Our email support solutions are designed to ensure high customer satisfaction and easy accessibility. We work with our clients to understand their business needs and develop customized plan that fits their specific requirements. With our team of experienced professionals, you can be assured of top-quality customer support services that help to build trust and loyalty with your customers. 
So, if you want to provide reliable, efficient, and cost-effective email support services, consider outsourcing to Call masters BPO. Contact us today to learn more about our email support services and how we can help your business succeed.