One of the most important factors that connect companies with their consumers nowadays is customer support services. All businesses, regardless of size, are committed to providing the greatest possible customer service in order to maximize profits and market share.
The most prevalent trend that has been seen throughout the many industrial sectors, whether it be a large multinational corporation or a mid-sized enterprise, is outsourcing customer service. Outsourcing customer service is one of the most common strategies used by businesses to increase their competitiveness. 
What are Customer Support Services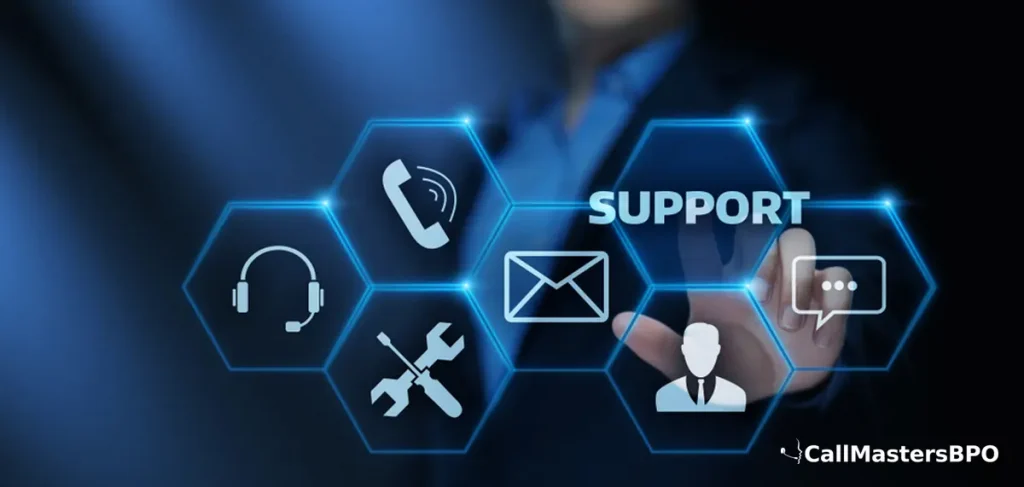 Teams dedicated to customer service handle inquiries from clients and provide technical support for goods. Professionals providing customer service strive to ensure that clients leave conversations having received satisfactory responses and resolutions to their issues. 
Importance of Customer Support Services for your business
When questions or problems arise, customers rely on support agents to assist them swiftly and efficiently. This has impacts on consumer loyalty, customer lifetime value, and brand perception. 
Types of customer support services
Any successful company understands the need of providing excellent customer service, but it is even more crucial to learn what kind of service is preferred by its clientele. 
Here are the top 10 types of customer support services to consider using to wow your clientele. 
1. Traditional Walk-In Customer Service
3. Customer Service as a Service (CSS)
5. Support through Real-Time Chat
7. Resolving Issues Via social media
8. IVR (Interactive Voice Response) Client Support
10. Forums & Groups Concentrated on Customers
10 Benefits of Outsourcing customer support 
Every kind of company, from factories to e-commerce sites, feels the effects of poor customer service. Companies get a great deal of value by outsourcing customer service to a third party in addition to cost savings.  
The benefits of customer service outsourcing are outlined here to aid businesses in making an informed selection about which outsourced partner to work with. 
1. Cost Effectiveness
Outsourcing customer support functions allows businesses to save a lot of money, which is a major motivating factor for many companies. Companies may focus on their core competencies without worrying about building costly infrastructure, recruiting top talent, or providing extensive training. It's not only a lot of money and effort, however.  
Thus, outsourcing is preferable since third-party companies already have the skilled workers, modern facilities, and simplified procedures essential for delivering first-rate support to their client's customers. 
2. Improvement in Scalability
Outsourced customer support service is not only more affordable, but it also allows you to grow your operations fast to meet your present and future business demands. 
Assume, for the sake of argument, that a corporation expects a 50% increase in call volume during peak season. Given the firm's stated preference for an internal solution, what practical choices exist for satisfying this requirement? 
The business could either keep its present level of customer service staff and risk irritating and losing customers, or 
The corporation might spend a lot of money on new employees and infrastructure. 
If you had an outsourced solution in place, you wouldn't have to stress about expanding your support team. A third-party service provider might do the tough tasks since they already possess the expertise and equipment required. 
3. 24/7 constant support
All businesses, from the largest multinationals to the smallest startups, are increasingly going global in their quest of consumers. It necessitates the availability of assistance for customers at all hours. The needs of your customers should always come first, regardless of the day or time of year.  
Here, it's best to hire a third-party agency to handle customer care, since they can provide round-the-clock assistance. According to studies, businesses that use reputable outsourcing services to handle their customer care inquiries make more money than those that try to keep their customer service departments in-house. 
4. Reach out to the best technology
Trustworthy outsourced customer service providers value fulfilling (and often exceeding) client expectations. To provide just one example, research has revealed that the average consumer has a one-minute tolerance for waiting on hold before hanging up. 
As a result, a top-tier provider of customer service will have systems in place, including the employment of quality assurance auditors who instruct employees on how to eliminate "dead time" between calls, to cut down on average waiting time. 
5. Multi-Channel constant support
When it comes to customer service, many businesses find it difficult to take on the duty of providing continuous support, which includes everything from email and live chat to phone calls and technical assistance through mobile messaging and social media.  
Customers are more likely to be satisfied if they have various options for contacting the firm when they need help. Because of this, outsourcing organizations are the only ones capable of effectively providing all these support services while yet keeping enough communication. 
6. Focus on core competencies
Customers are the driving force behind every company's success, no matter the field. However, providing excellent customer service may not be one of your company's primary strengths. For instance, manufacturing companies are experts in making things, not handling consumer problems. 
An outsourced customer support solution allows you to concentrate on your core competencies without compromising the quality of service provided to your clientele. 
7. Enhanced Brand Persona
Putting a caller on wait for an extended period of time has had to be one of the worst things that might happen. It should be avoided at all costs as a matter of good customer service practice.  
Customers will not have to wait long to get their issues resolved when they have access to a dedicated staff of customer service representatives. In a matter of minutes, their issues should be resolved. So that the outsourcing firm can complete projects in a timely manner, it is the company's obligation to familiarize itself with the business, its products, and its culture. 
8. Increased Customer Retention Rate
Keeping current customers happy is more crucial than trying to attract new ones. Regular communication with consumers provides a chance to create lasting bonds with those customers, which in turn raises the worth of the company's brand.  
Call Master BPO is recognized to provide superior customer service, which ultimately helps businesses keep their existing clientele. They've got systems in place, including cutting-edge creative software and customer relationship management tools, that listen to client comments and monitor client habits in order to provide superior service. 
9. Greater control
In order for greater control and to provide excellent service to customers, training is essential. In order to effectively solve customers' problems using the company's software, agents need to have a solid grasp of technology. Moreover, they need to adhere to industry standards for customer service in order to wow their clients and win their loyalty. 
Employers must devote substantial resources to the training of specialist agents. There might be significant growing pains and diversion from the company's primary objective if you choose to handle this internally. But if you engage with an outside provider, you may get the advantage of a highly skilled staff without shouldering the financial burden of hiring them. This is excellent news for your company. 
10. Enhanced Measures to Reduce Risk
Outsourcing customer service is a popular choice because it helps firms reduce risk. As a result of their trained staff, cutting-edge facilities, and keen understanding of the market's possible dangers, BPO services may be of great assistance in minimizing these threats.  
In the end, the risk management that results may enable you to concentrate on what really matters: growing your organization. 
Ready to Outsource your customer support service?
Assessing the potential benefits and drawbacks of working with an outsourced partner to handle your customer service needs is essential. Customer service outsourcing is primarily motivated by the need for cost savings, although this cannot be the only motivation.  
Before committing to a BPO provider, a company that places a premium on customer satisfaction should investigate its key capabilities, testimonies, and track record. 
Call Master BPO is here for you!
Companies like Call Master BPO, which provide customer support, provide omnichannel options such as phone, email, and live chat. If you are having trouble keeping up with your support queue or want to increase your customer retention, outsourcing your customer service to a reliable BPO may be the best option.