Still, Mix up Call Center services with BPO? You are going way wrong and it could affect your business as well stay conscious and see the difference.
BPO and Call center Services are different in various ways but are perceived the same also. There is a misconception that the BPO is somewhat a call center. Although, the call center is one part of Business Processing Outsourcing but can't be compared to the BPO as the goals and services of either vary in many ways.
Typical business modules include a standard operating process for responding to client inquiries. BPO and call center services are two different kinds of calling techniques.
Based on the communication goal, both small and large companies may employ them. They become considerably more significant if the telephone operation is not digitized. Both are suitable for a range of online and offline uses.
5 Classified Differences between BPO and Call Center Services
Call center services and business process outsourcing (BPO) are often used interchangeably. Many people mistakenly believe that call center services and BPO refer to the same thing and combine the two into a single BPO center for various services.
It won't be inaccurate to suggest that you have a false impression of reality. Despite their similarities, they both have some significant differences. Let's look at them;
Difference By Definition
The following are the generic definitions of both entities;
Call Center Service?
A call center is a centralized division that responds to incoming and outgoing calls from clients, both present and prospective. Call centers may be found within an organization or are outsourced to another business that focuses on taking calls.
BPO?
Business process outsourcing (BPO) is the transfer of one or more IT-intensive business processes to a third party, who then owns, administers, and maintains the chosen processes in accordance with predetermined and quantifiable performance goals.
Difference between Services
A Call Center is a division of a BPO that primarily focuses on telephone-based operations and often employs auto dialing. The Services that a Call Center provides are;
Billing and Collections – collections, billing specialist, etc.
Lead Generation – survey generation, appointment setting, and order takers.
Customer Service – email support, customer care,
Technical Support – system engineers, network engineers
Whereas,
BPO services are divided into two main groups: horizontal services (those that may be used across different sectors) and vertically-specific services (those that demand specific industry vertical process knowledge). These services include;
Finance & Accounting – Accountant, Bookkeepers, Collections, Debt Recovery.
Marketing Support – Digital Marketing, social media, Copywriters, Video Editors, Website Developer / Graphic artists.
Call Center – Customer Support, Telemarketers, Email support/Chat, Lead Generators, Collections.
Back-office support – Human Resources staff, Encoders, Virtual Assistants, Data Entry, Account Management.
IT Professionals – Software Engineers & Development, Network Engineer.
Distinct functional differences
Finance and accounting, sourcing and procurement, knowledge-based services, outsourcing of human resources, customer services, online reputation management services, and other activities are all a part of BPO services.
The only tasks the call centers do are front office tasks. A call center's primary job is to retain current clients while influencing new ones over the phone.
BPOs, on the other hand, handle both your client interactions and your main back-end company operations.
Distinction between Work Divisions
Back-end processes and front-office processes are the two primary types of processes that deal with BPO services. Data input, administration, payments, surveys, accounts & finance, etc. are all part of the back-end process.
On the other side, front office operations include customer management services through social media, telephone, email, live chat, and chatbots powered by artificial intelligence, among other things. Inbound and outbound sales, market research, appointment planning, customer care, telemarketing, technical support, and help desk services are all included. Not all BPOs provide both procedures. The majority of BPOs provide choices for outsourcing call centers as well as front-office functions.
Providers of call center outsourcing services to manage just front-office tasks that are restricted to calls (both incoming and outgoing). Customers call in, so they get calls to help them with their problems or to answer their questions. These calls are inbound calls. Additionally, outbound calls are those made by your representatives to convince a prospective consumer to purchase a product or service from your business.
Need/Demand Difference
In order to gain a social presence via online reputation management, BPOs are employed to work on the front and back offices of an organization.
While a call center service is necessary for direct consumer connection and to foster a company's relationship with its clients, BPOs are employed to work on an organization's back office and front office tasks.
This could include speaking with the customers, or it might not. In order to improve the efficiency of the business's operations and save costs, they handle both critical and non-essential procedures or portions of those processes.
| | | |
| --- | --- | --- |
| Niche Differentiate | BPO | Call Center |
| Define | A BPO is in charge of carrying out a business procedure for another business entity. | The portion of a client's company that requires answering phone calls is handled by a call center. |
| Pre-Requisites | Excellent communication and computer skills | possess basic computer skills and speak any language with ease |
| Services | Greater Number of Services then call center | Less Number of Services than BPO |
| Performance | One or two abroad companies' business activities | the use of telephone lines for work |
What distinguishes call center companies from BPO companies?
With that knowledge, the main distinction between call centers and BPO organizations is quite simple to comprehend. While business processing outsourcing companies handle many other sorts of work that are not limited to communications, a call center specializes in handling communications-related duties that are commissioned by another firm or institution.
Having said that, a call center may qualify as a BPO. A BPO, however, cannot be compared to a call center since they perform a far wider range of duties than just accepting calls and managing communications for clients.
The location of where call centers and BPO businesses do the majority of their business is another significant distinction. A business processing outsourcing firm works behind the scenes, while a call center concentrates on interactions between callers or customers and agents and customer support. Some front office jobs and several backend procedures that call center employees would never do are separated amongst BPO businesses. A few of them are:
Market analysis
Technical assistance
Marketing and sales
Customer service
Recoveries and collections
Entry of data, surveys, payments, and financial accounts
Administrative duties, etc.
Although the BPO is not normally hired to develop and maintain relationships with consumers in the same manner as call center personnel do, they do often deal with clients and customers. Even though BPO employees spend most of their time working in an office setting, training them to provide outstanding customer service and better experiences to everyone they engage with is still crucial.
The viewpoint of an Employee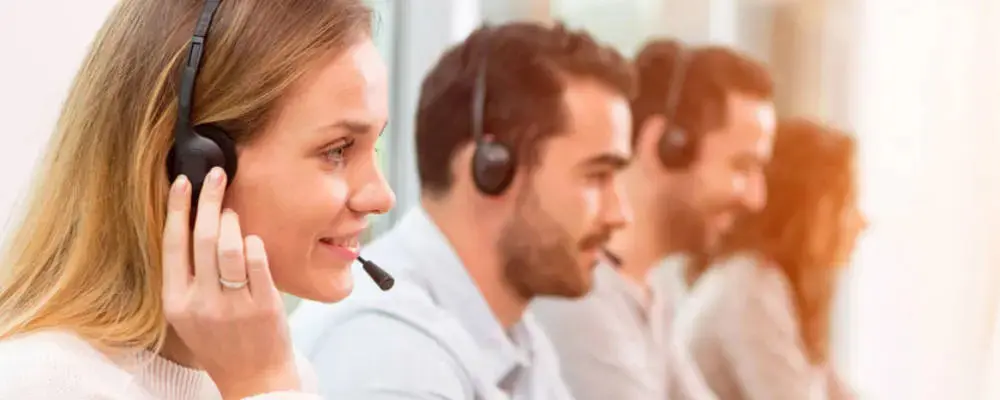 Although these names may seem to sound somewhat alike, there are important distinctions between a BPO firm and a call center company. When you work for a BPO firm, you are an employee on the client's team and an extension of their business.
To meet the objectives of the customer, BPO companies provide specialized jobs where certain talents are needed. Virtual assistant, lead generator, social media executive, appointment setter, account manager, and website developer are just a few of the customer services functions that outsourcing services may play.
Employees at BPO businesses will be active in the company's projects from the training phase on up to providing feedback and participating in the decision-making process. On the other hand, if you work in a call center, all that is required of you is outstanding communication and negotiating abilities; you have no influence on how the business is developed. Auto dialing is used continuously in call centers to make high volume phone calls. Call center workers are responsible for engaging with clients over the phone, responding to their questions, and meeting their requirements.
Summary
A Call Center is a division of a BPO business that primarily focuses on answering client questions over the phone. Contrarily, BPO offers call center services as well as other back-office outsourcing projects.
If the procedure that has to be outsourced involves technical or professional abilities that can be shown by a degree, it is advised for business owners to use a BPO organization. In contrast, if you're searching for a cost-effective solution for your customer service requirements, a call center is the sensible choice.
The following are the differences between working for a BPO company and a call center: a BPO company will require you to have a specific set of skills to align with the tasks of the client that arise from a needs-basis, whereas a call center only needs you to have excellent communication and negotiation skills to properly address the customers' needs. In contrast to working in a call center, where only team leaders are given this sort of opportunity, workers in a BPO business will have the chance to be active in a large organization. Working for a foreign corporation while employed by a BPO company offers the chance to build a steady career.
Why do you need BPO Services?
To save time, boost revenue, or generate leads, get the best BPO solutions.
We give more functionality and assistance as a BPO solution provider to help your company maintain a competitive advantage. The best strategy is to hire BPO services since it has several advantages, including lower costs, more efficiency, and more time for the employer to concentrate on its core operations. For client satisfaction, we at Call Master BPO adopt the most recent technology and guarantee innovation and ongoing quality improvement.
With the help of our telemarketing, lead-generating, and customer support services, we want to help your company flourish. We perform market research to determine the demands of our clients, which set us apart from other BPO service providers. We offer a reasonable fee that is far less expensive than the higher caliber BPO services that we provide.